Project Control Specialist
From: €4.955,00 Excluding Tax
Do you want a career in Project Control?
Then start a course to become a Project Control Specialist. Of course, you will follow this training with the No. 1 project management trainer. We have a good ratio between 50% theory and 50% practice.
In a period of four or five months you will be trained in project planning, cost control and risk management. You start with the basics in preparing Planning Processes, Work Breakdown Structures, Project Plans and Critical Path analyzes. In a second step you will focus on Resource & Cost planning and Cost Control, of course you will learn everything about the Earned Value Analysis and S-Curves. The third step focuses on Risk Management according to the RISMAN methodology and the Monte Carlo Analysis.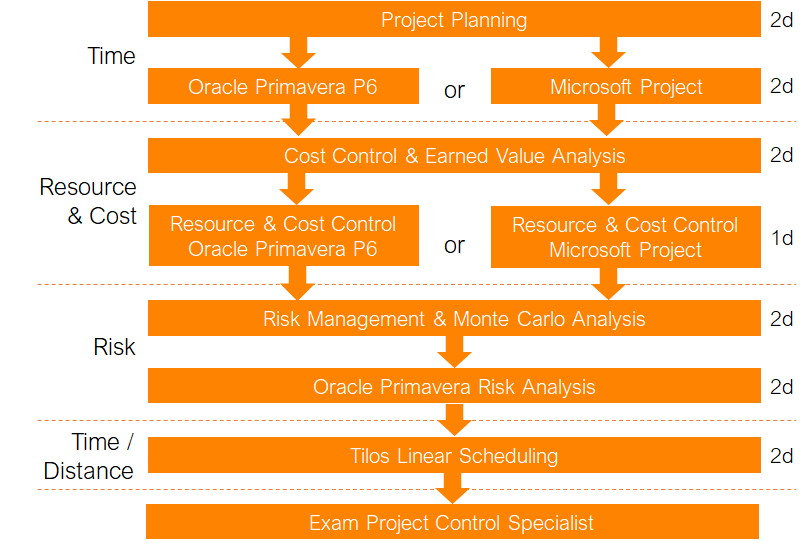 As a project management specialist, you will get started practically with project management software; Oracle Primavera P6 or Microsoft Project and Oracle Primavera Risk Analysis. Unique in our program is that you also learn to make time-away diagrams with Tilos Linear Scheduling software. Your education is concluded with a multiple-choice exam and you obtain your certificate. With this you can always prove that you are a real specialist. You are ready for a career as a Project Management Consultant, a much sought-after position at organizations that work according to the Integrated Project Management model.
The Aram Academy starts this course four times a year. The lead time is four to five months. With this we have taken in account the regular school holidays. If you do not have the time to take a course in between, it is always possible to postpone a course. This course is for project planners, project managers and cost engineers. Project management experience is a pre but not necessary. If you do not have this knowledge, we recommend that you first take the project management course.
Choose a start date (Location Rotterdam or Virtual Live Class) and number of people:
Description
Durations
Incompany | 13.5 days
Virtual Live Class | 13.5 days
Rotterdam Classroom | 13.5 days
---
Enrollment
Incompany | Including course book
Virtual Live Class* | Including online course book
Rotterdam Classroom | Including course book
---
Cathering
Incompany | Exclusive
Virtual Live Class | Exclusive
Rotterdam Classroom | Inclusive
---
Language
Incompany | English or Dutch
Virtual Live Class | English
Rotterdam Classroom | Dutch
---
Course materials
English
---
Time zone
UTC +01:00 Local time in Europe / Amsterdam
---
Class time
Incompany | According to agreement
Virtual Live Class | 09:00 – 16:30
Rotterdam Classroom | 09:00 – 16:30
---
Minimum number of participants
4
---
EQF Level
6 – Bachelor
---
Examination
Incompany | Exam
Virtual Live Class | Exam
Rotterdam Classroom | Exam
---
Study completion
Diploma
---
* To follow a Virtual Class, E-lease and Blended Learning you must arrange your computer / device, software license and course book yourself. Course books can also be ordered through our web store. While following an elearning course and / or a blended course, you use our online literature and you must purchase additional course books alongside. The course books to be purchased can be found in the course description.
** For in-company training, the minimum number of participants is 4 persons. You can choose preferred dates for in-company training. We try to run the course on these dates but cannot guarantee these dates. The final dates will be agreed upon in consultation. The mentioned prices for the Incompany training courses are for in the Netherlands. For courses outside the Netherlands, extra travel costs, such as airline tickets, may be charged. We will contact you for additional travel costs.