Project Control Specialist
Vanaf: €4.955,00 Excl. BTW
Wil je een mooie carrière in Project Control?
Start dan met de opleiding tot Project Control Specialist. Deze opleiding volg je natuurlijk bij de nr.1 opleider in projectbeheersing. Wij hebben namelijk een goede verhouding tussen 50% theorie en 50% praktijk.
In een periode van vier tot vijf maanden word je opgeleid in projectplanning, kostenbewaking en risicomanagement. Je begint in de basis in het opstellen van Planningsprocessen, Work Breakdown Structures , Projectplanningen en Critical Path analyses. In een tweede stap ga je je richten op Resource & Cost planningen en Cost Control, natuurlijk leer je dan alles over de Earned Value Analyse en S-curven. De derde stap richt zich op Risicomanagement volgens de RISMAN methodiek, Probabilistische Planningen en de Monte Carlo Analyse.
Als specialist in projectbeheersing ga je praktisch aan de slag met projectmanagementsoftware; Oracle Primavera P6 of Microsoft Project en Oracle Primavera Risk Analysis. Uniek in ons programma is dat je ook leert om tijd-weg diagrammen te maken met Tilos Lineair Scheduling software.
Je opleiding wordt afgesloten met een multiple-choice examen en behaal jij je certificaat. Hiermee kan je altijd aantonen dat je een echte specialist bent. Je bent klaar voor een carrière als Adviseur Projectbeheersing, een veel gevraagde functie bij organisaties die werken volgens het Integraal Project Management model.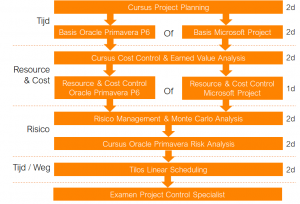 De Aram Academy start deze opleiding vier keer per jaar. De doorlooptijd is vier tot vijf maanden. Hierbij hebben we rekening gehouden met de reguliere schoolvakanties. Heb je tussendoor even geen tijd om een cursus te volgen dan is het altijd mogelijk om een cursus door te schuiven.
---
Kies type (Rotterdam Klassikaal, Virtual Live Class of contact ons voor verdere informatie over In-company), een startdatum en het aantal personen
Beschrijving
Duur
Incompany | 13.5 dagen
Virtual Live Class | 13.5 dagen
Rotterdam Klassikaal | 13.5 dagen
---
Cursusboeken
Incompany | Inclusief cursusboek
Virtual Live Class* | Exclusief cursusboek
Rotterdam Klassikaal | Inclusief cursusboek
---
Cathering
Incompany | Exclusief
Virtual Live Class | Exclusief
Rotterdam Klassikaal | Inclusief
---
Spreektaal
Incompany | Engels of Nederlands
Virtual Live Class | Engels
Rotterdam Klassikaal | Nederlands
---
Taal cursusmateriaal
Engelstalig
---
Tijdzone
UTC +01:00 Lokale tijd in Europe / Amsterdam
---
Lestijden
Incompany | Volgens afspraak
Virtual Live Class | 09:00 – 16:30
Rotterdam Klassikaal | 09:00 – 16:30
---
Minimum aantal deelnemers
4
---
EQF Level
6 – Bachelor
---
Examen
Geen examen
---
Getuigschrift
Certificaat van deelname
---
* Om een Virtual Class, E-lease en Blended Learning te volgen, moet u uw computer/ device, softwarelicentie en cursusboek zelf regelen. Cursusboeken zijn te bestellen via onze webwinkel. Tijdens het volgen van een e-learning en/ of een blended cursus, gebruikt u onze online literatuur en moet u daarnaast aanvullende cursusboeken kopen. De te kopen cursusboeken zijn te vinden in de cursusbeschrijving.
** Voor incompany trainingen is het minimum aantal deelnemers 4 personen. U kunt voorkeursdata kiezen voor in-company training. We proberen de cursus op deze data uit te voeren, maar kunnen deze data niet garanderen. De definitieve data worden in overleg overeengekomen. De genoemde prijzen voor de Incompany-trainingen zijn voor in Nederland. Voor cursussen buiten Nederland worden extra reiskosten, zoals vliegtickets, in rekening worden gebracht. We nemen contact met u op voor extra reiskosten.